7 Via della Spiga #16
2016
MILANO, IT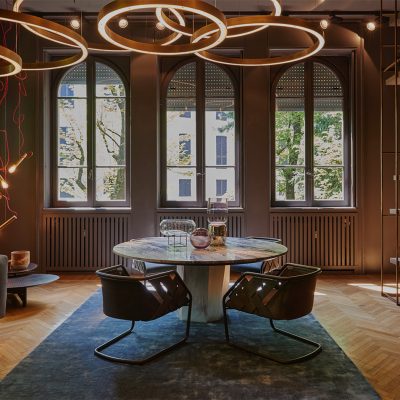 Henge's Atelier 7 Via della Spiga renews its space to present
the 2016 collection.
For the new product line, the brand experiments in the world of precious and original materials, in the quest for an exclusive perfection. The Atelier is conceived for the world of interior design, in order to display the brand's most significant selection of furniture characterized by a high real value, and to make available to architects and interior designers the tools to create a design system in which on demand is the protagonist. 7VDS is the expression of the most sophisticated Made in Italy.
What would we want in our home?
This is the question Creative Director Massimo Castagna asked himself to begin designing the spaces of the Atelier in via della Spiga 7, at the first floor of an historic Milanese home, of which all the historic features and volumes have been kept intact.
Materials and manufacturing quality
A significant selection of the new product line investigates the artisanal knowhow of Murano, where the spirit of a magical place hovers over the alleys, and that through its laboratories developed a timeless knowledge characterized by a contemporary taste.
Henge is the point of departure
Space invades the place that contaminates the materials that transform the experience of the interior design project into a new journey.
A unique international house
Our ambition convinced us of having created a highly unique international house: where Henge products blend with Henge ideas, where materials and Milan meet, to embark on a metaphorical journey through art and design.
Contemporary taste
An atelier that faithfully mirrors the international contemporary and high-level projects of interior design.