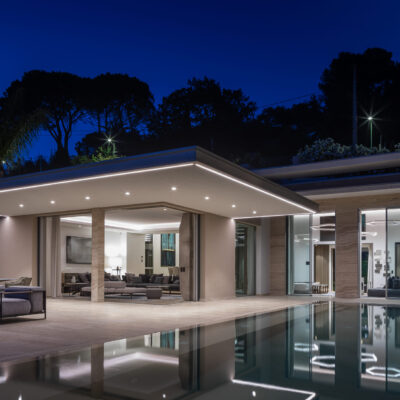 Project by: Francesco Bortolato – Nembo Design Studio
Development by: Rosengart Real Estate Group
Photography: Andrea Pancino
Cannes
VILLA AHV: A Jewel of Design in the Hills of Cannes
Exploring the latest interior design project signed by HENGE, in collaboration with Nembo Design Studio, VILLA AHV emerges as an authentic gem nestled in the hills of Cannes.
The design philosophy behind this residence, which enjoys a panoramic position with breathtaking views of the bay, pursued the goal of creating an authentic connection between indoor and outdoor spaces. Large, minimalist-framed windows ensure the view can be enjoyed year-round, removing any barrier and establishing a genuine connection with the outdoors.
The panoramic view of Cannes provides the property's most stunning scenery. The large windows and 5-meter-high ceiling allow for extraordinary brightness and convey a sense of exceptional volume, maintaining a feeling of spaciousness and expansive open spaces. The staircase features a glass parapet and steps made of "Briccola Wood", which are wooden poles from the Venetian lagoon that were traditionally used for navigation by sailors. This staircase was custom-made for the project and designed to allow natural light to flood the surrounding spaces with its transparency.
The furnishings and decorations were chosen to ensure stylistic coherence in every corner of the house. From the master bedroom to the gym, every element is crafted with a consistent spirit: the materials, colors, and finishes all speak the same language, without overly strong accents, maintaining understated elements with a high level of coordination and a comforting feel.
Custom-made wall panels and a fully customized wardrobe wall with leather doors were also created to optimize the spaces of the master bedroom.
2023
The meticulous harmonization of the primary materials – wood, stone, and metal – was pivotal in the project. Noteworthy examples include the use of limited-edition onyx, such as STR Onyx for the Synapse table, swamp ash retrieved from centuries-old trunks found in marshy areas, and Briccola Wood. Moreover, the metals, featuring hand-made finishes and oxidations, are a distinctive detail of HENGE, imparting a unique and exclusive touch to every space.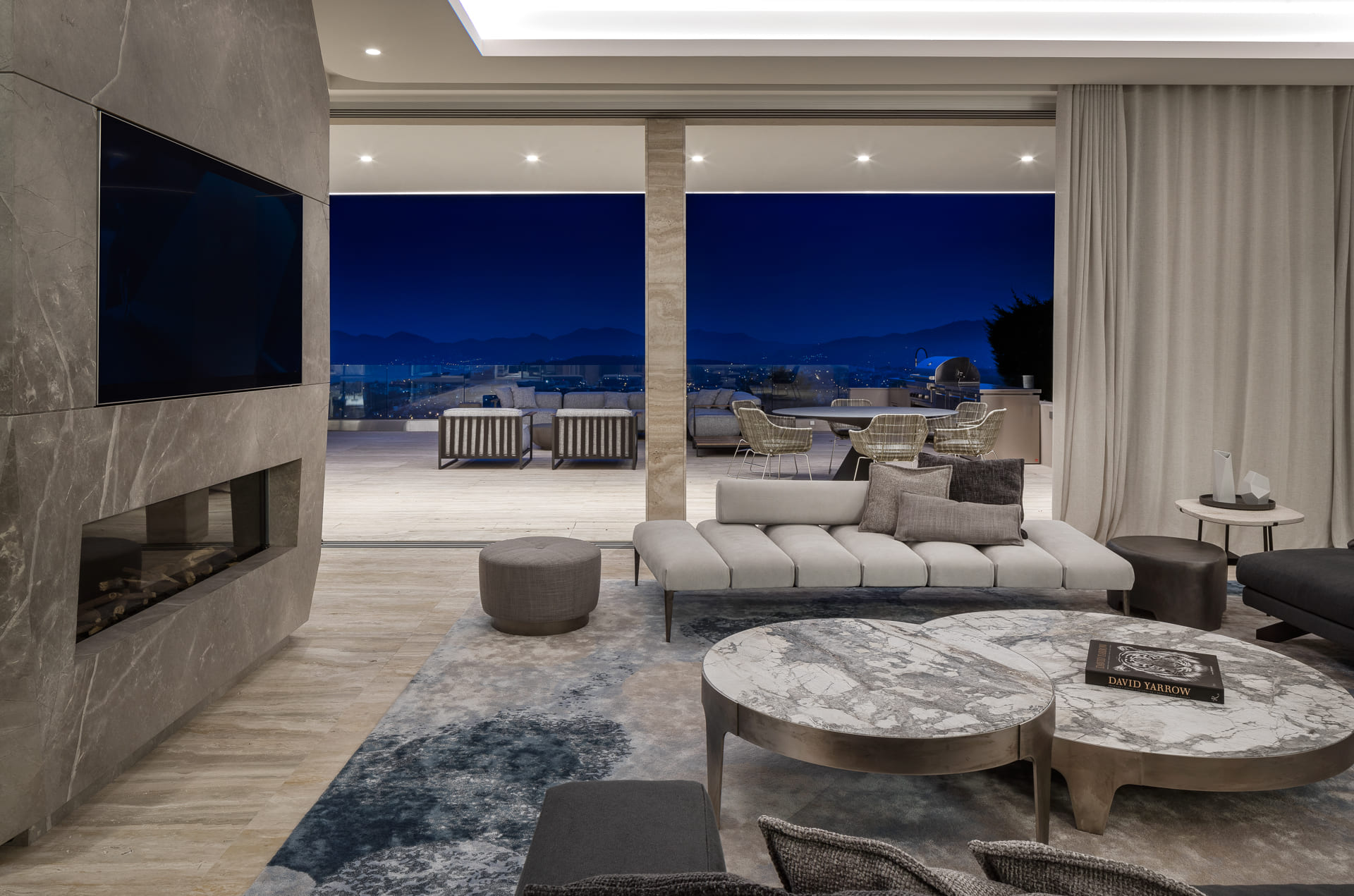 VILLA AHV distinguishes itself as a home of refined elegance, a sanctuary where owners and visitors are welcomed to immerse themselves in a wellness experience throughout the year.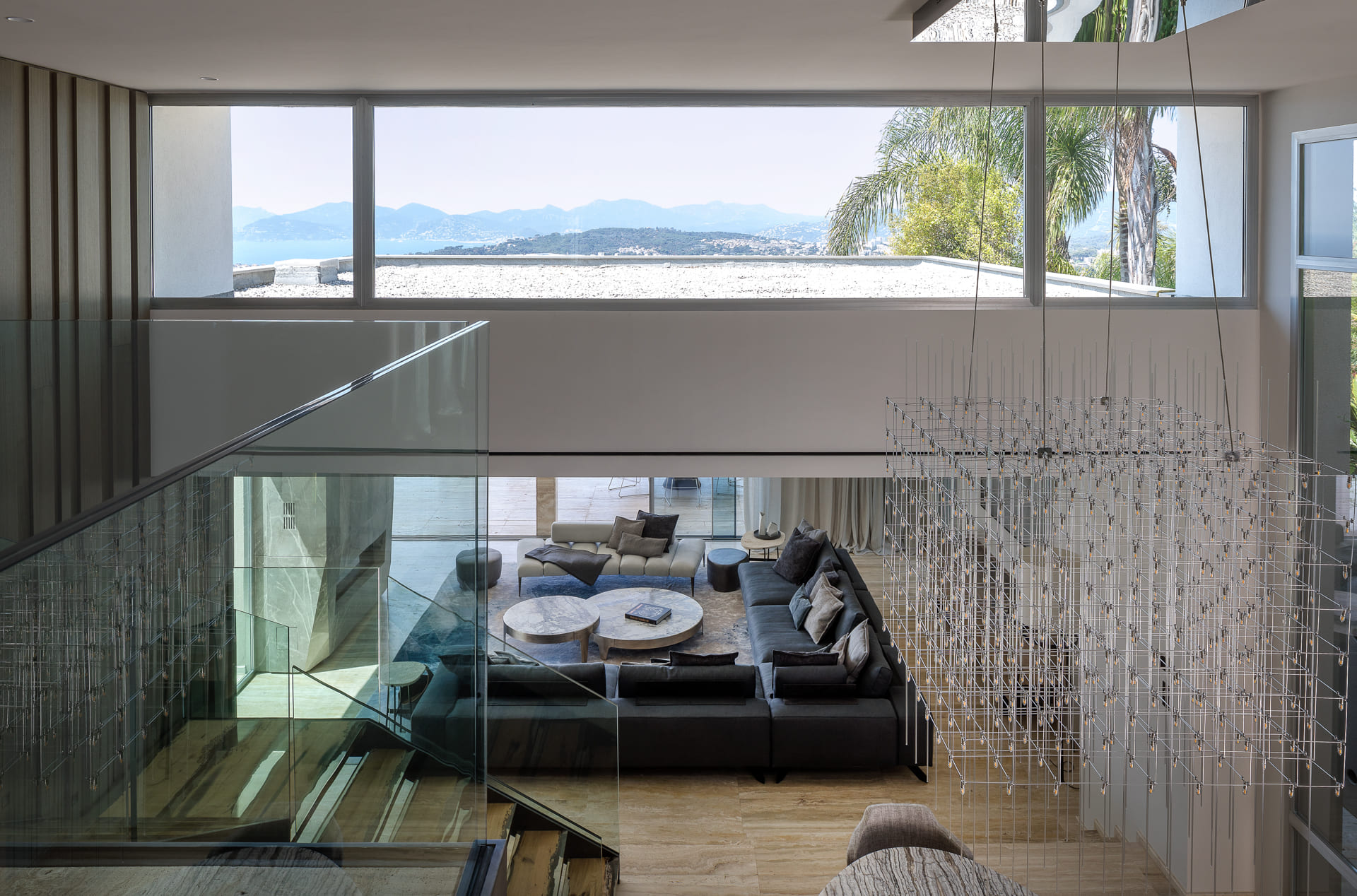 Masterfully integrated into the vibrant green of the garden and enveloped by a breathtaking view of the sea, the villa maintains a metropolitan and cosmopolitan soul, representing an exclusive combination of the tranquility of nature and the elegance of the most contemporary design.