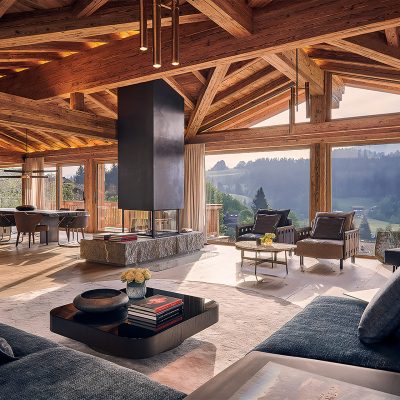 Design Philicima Design Studios Developer Prime Properties Group
Photographer: Jamie McGregor Smith
Kitzbühel, AUT
In an idyllic, picturesque context, a primary location of Kitzbühel, in Tyrol, Austria, on a gentle hill, nestled among the soothing and regenerative beauty of meadows, Chalet R has been designed to capture the magnificent panoramic view of the valley and the mountains, intimately connecting its residents to the alpine settings.
The high-end three-storey chalet, realized and followed in the architectural and interior design process by Philicima Design Studios and Sublime Group, is a development by Prime Properties Group, authors of luxurious homes in the most spectacular and exclusive regions across Europe.
A modern take of traditional local architecture guidelines expresses an elegant reinterpretation of the classic alpine chalet.
Crafted, according to its creators, like a harmonious and serene place of 'sublime living', Chalet R embodies and privileges a new idea of luxury, intending to ensure an authentic homely feeling and offer precious, intense moments in close connection with nature.
An open layout fluidly unfolds in sequentiality the three main areas of the living plan, on the top level, characterized by the uninterrupted visual interrelation with the surrounding greenery.
A well studied compositional language of selected, unique pieces of furniture, complemented by an original contrast of materials and tonalities, and a series of significant tailored additions, conveys a sense of refined, modern coziness and comfort.
The inviting appeal of a group of RF armchairs and the generous linearity of Lailand sofa, softened in their rational minimalism  by the calibrated notes of burnished and lucent brass, organic and curvilinear presences, envelop the ambience with simplicity and elegance, creating an antidote to the restless daily life.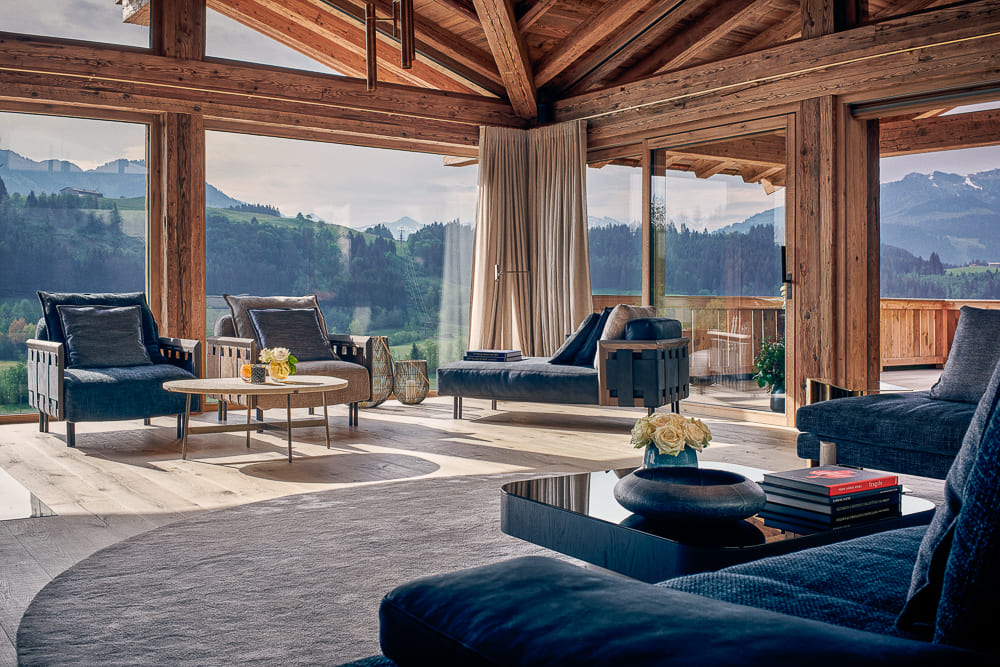 The entire intervention is permeated by attentive balance of counterpoints: a dominant two tone scheme, light and dark, and an interactive dialogue between vernacular materials, wood and stone, kept in their original spirit, but interpreted according to a new taste.
A precise gesture, the marked contemporaneity of a fireplace, open on both living and dining area, nurtures a peaceful, intimate atmosphere.
The sophisticated, unexpected eclectic mix-match of different shapes and leathers, in a varied assortment, of Strip chairs and  EX-Tra chairs, combined with the strong tactile protagonism of the wooden top of the dining table, creatively contributes to a special, charming  conviviality. Strip stools display a new statement of minimalist refinement in the adjacent kitchen corner.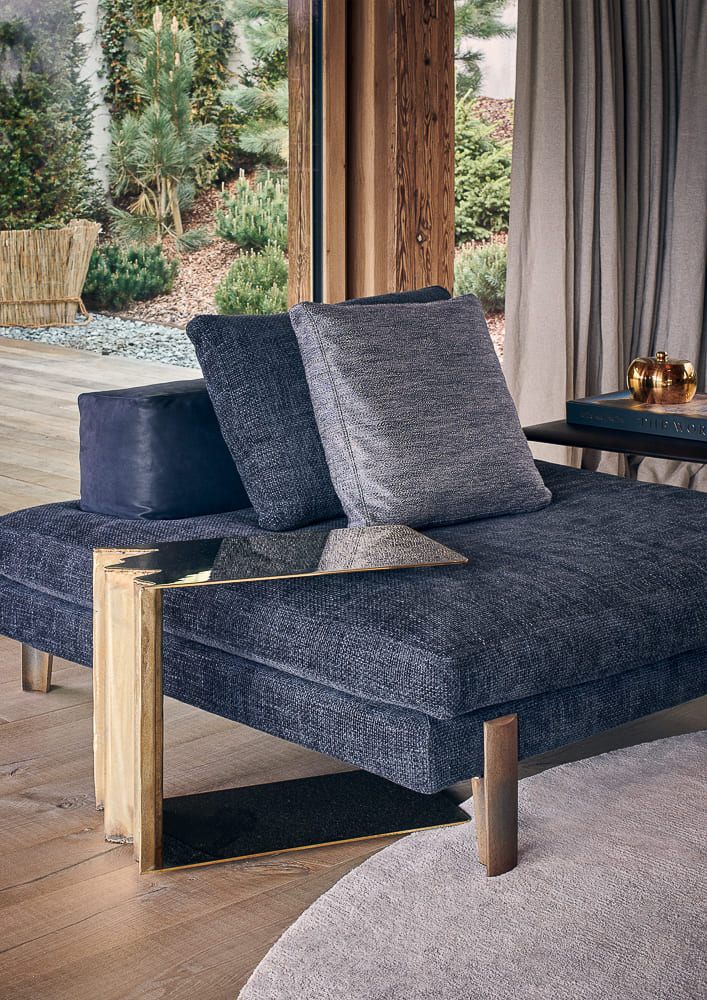 An adjacent staircase, accompanied by the rhythmic brass cadences of the slender, minimalist aesthetic of Pipe light-S leads to the ground level, where an intimate wellness area with whirlpool, sauna and steam bath, mantled by a beautiful South Tyrolean granite, celebrates the senses.