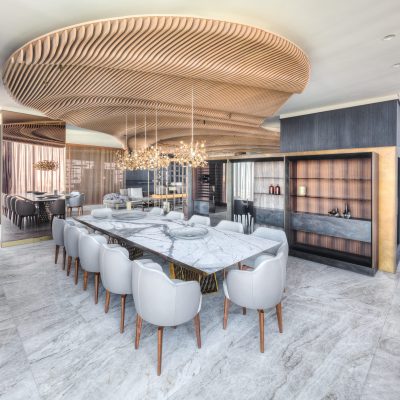 Architect: Grupo Arquitectura & Vanessa Padilla
Interior design: Hajj Designless
Photographer: Agustin Garza
Mexico City, MX
The Mexican studio, GrupoArquitectura, has just realized a new sumptuous interior for a residential apartment of over 700 sqm.
A grand entrance-gallery, lined on both sides with the alluring, repeated pattern of a gorgeous full-high veined marble, introduces with great anticipation to an extensive open-plan space.A sequence of intimate, articulated moments, fluidly interconnected, according to a well organized layout, offers a rich programmatic spatial experience.
Distinctive areas, characterised by light tonalities, soft fabrics, 'poudre' rugs and vibrant metal accents, exude empathy, providing desired privacy and conviviality. The floor in delicate veined honed quartzite and a cloud-like, suspended wooden floating mantle blend, as a connecting thread, the arrangement.
The comfortable and generous configuration of Lailand sofa, accompanied in its elongated shape by an eclectic selection of coffee tables in a varied assortment of brass finishes, crafts the warm, refined classical contemporaneity of a lounge room with tv.  Nuanced tones ranging from sand to muted earthy hues, brightened by vivid notes, harmoniously resonate.
The minimalist presence of the two-sided bookshelf, Cage Pure, completes the setting, performing an important aesthetic and functional role. Its staggered alternation of shelves draws the eye, through the intriguing porosity of this game of lines, towards the other ambiences.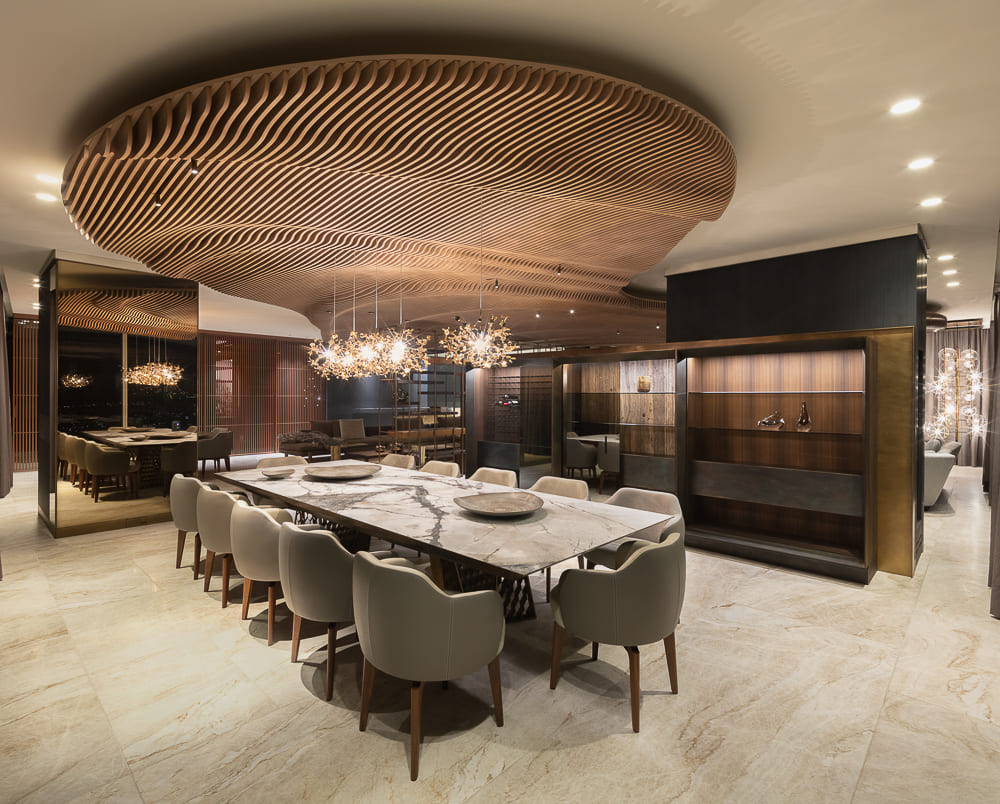 Two contiguous dining areas, coherently shaped, extend with creative contaminations the general concept based on content, durability and uniqueness. Chromatic assonances, pieces that embody formal distinctiveness and evoke excellence of exclusive processes of craftsmanship are the leitmotif which imprints both.
Among inviting, shell-like, enveloping armchairs stands as protagonist of the scene Stealth table with its sculptural rigorous edged profile, enriched by the remarkable proportion of a precious stone top and the finely executed brass honeycomb pattern of the legs.
The formal, yet convivial, gathering mood, highlighted by the palette of white monochromatism and 'golden' touches, is partially framed by the linearity of Loom Program, with its balanced sequence of modules and exquisite combinations of textures,  wood, stone, black burnished steel and bronzed glass.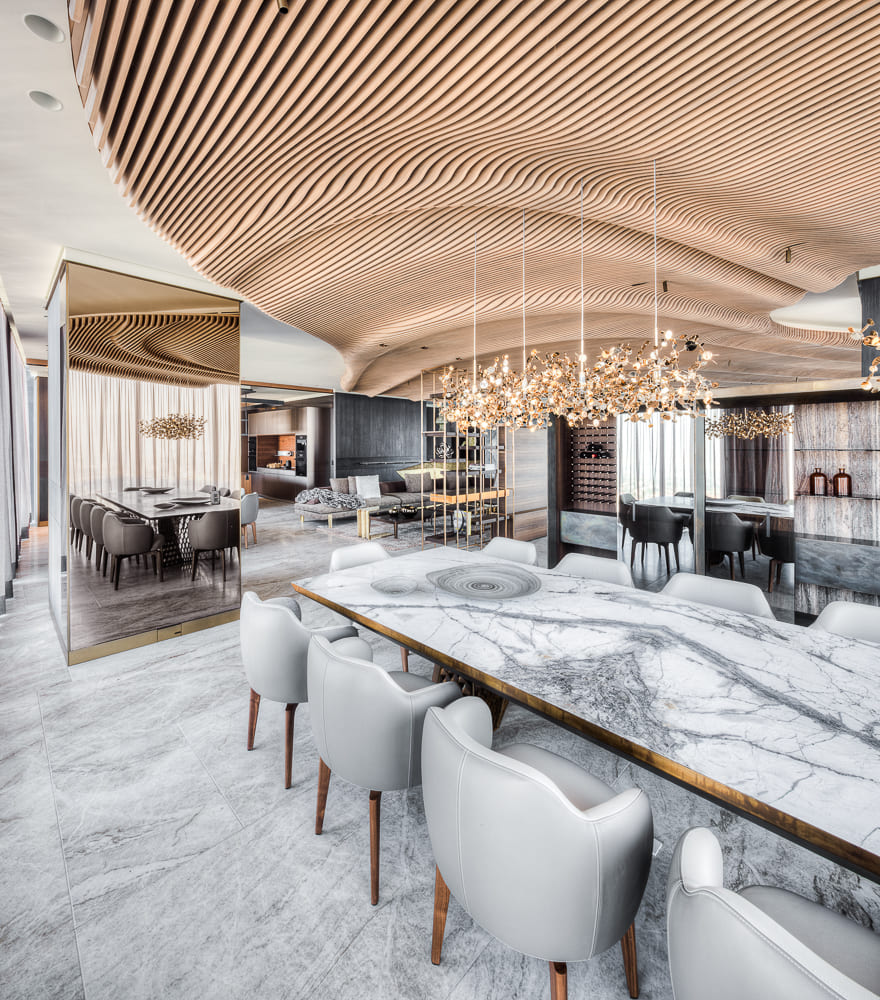 The adjacent spacious living area, orchestrating soft volumes, pure and sinuous lines amplifies in harmonious interaction the elegant, relaxing atmosphere.