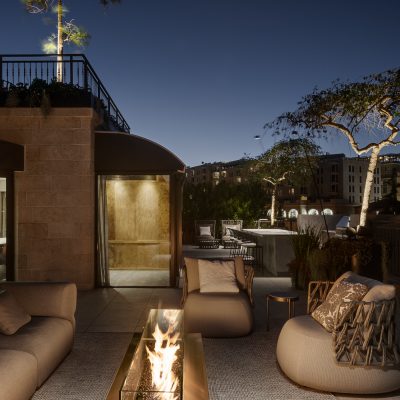 A triple penthouse overlooking the holy city
Jerusalem, ISR
Erez Hyatt, interior designer based in Tel Aviv, is the author of this luxury three-level penthouse, 400 sqm dialoguing with an equally extensive outdoor surface, rooftop and terraces, alternating entertaining and relaxation moments, among greenery and water features, and a spectacular infinity pool overlooking the magnificent skyline of the old city of Jerusalem.
The first floor captures the attention with its uninterrupted spatial continuum, a sequence of adjacent, elegantly defined ambiences, visually interconnected, yet masterfully separated by strategical porous screens. A rigorous, contemporaneous narrative, inspired by minimalism and meticulous attention to details, defines the entire apartment, playing on contrasts of tones and high quality materials. Juxtapositions of textures and alternations of chromatic rhythms nurture the crisp and warm atmosphere of every corners.
In an inviting living area, the language finds its expressive strength in a balanced harmony between dark and light, daring geometries and generous comfort of soft upholstery and leathers. The streamlined profiles of Rock sofa and Lailand sofa, paired with the cozy embrace of a couple of Human armchairs blend with the tapered shape of the Monolith coffee tables, creating layers of intriguing beauty, enlivened by glints from the Abaco wall and the elongated, stylized ramifications of two suspended Starlight.
The verticality of Bistrot, double-sided bookshelf, frames the setting with permeability, offering a glimpse, among its precious burnished metal modules, of the kitchen behind, an airy space, marked by the pure, compact linearity of a mono-block in stone, accompanied by the refined character of the Strip stools, discretely illuminated by the iconic and timeless sign of an over-sized Crystal Evo lamp.
A remarkable piece, Stealth table, in complementarity with the tempting comfortable curvilinearity of Zagg chairs, features an eye-catching synthesis, a new paradigm of conviviality for the dining zone.
The striking statement of an edgy snaking three-story staircase in polish brass, gorgeous sculptural soul of the home, leads to the upper parts.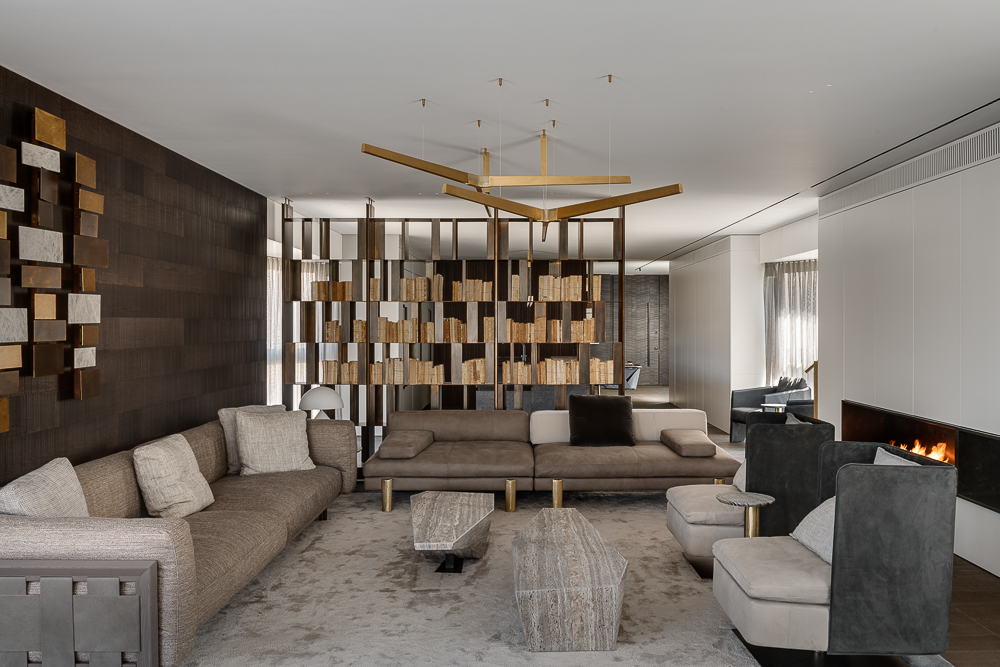 Chromatic antitheses interact, crafting the intimate mood of the master suite. Dark hues of the parquet and a wall entirely cladded with long veneered panels of natural wood oppose an exquisite white marble geometric pattern behind the bed, interpreting in modern terms one of the most personal and private ambiences of the house. The eccentric notes of two pendant Superb-all smooth the contours with sophisticated shades. The bathroom, fluidly connected by the continuity of the patterned white marble wall and alternation of strong dissonances, is a celebration of materials' purity in their authenticity.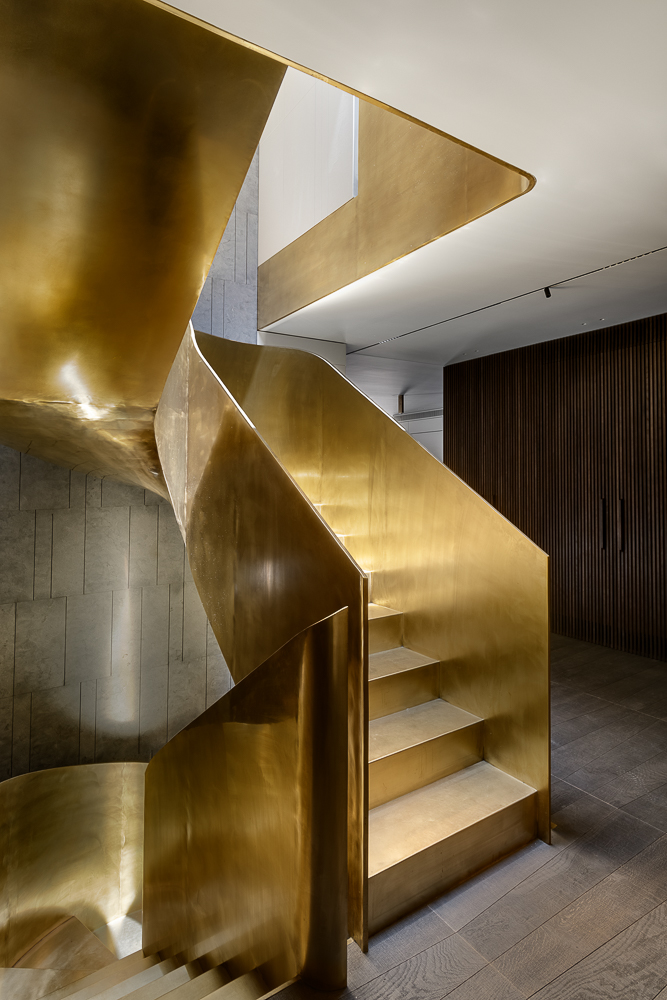 In another private space, with function of studio, enveloped by a tactile material palette of dark wood panels, resonate as vibes of high sonority the unconventional asymmetric graphic incisiveness of Ted table with its burnished bronze top and the glamorous pair of Ketch armchairs backlit by the artistic textural mix-match of the Abaco wall.