Palazzo del Sol – A world apart
Palazzo del Sol is the newest luxury residential building on Miami's famed Fisher Island. The exclusive construction was recently completed, bringing more contemporary design and architecture to the Mediterranean-style island. Henge was selected to design a turnkey model home for the building. Unit 7053, the third and largest model residence, was curated by the Italian brand thanks to the prized work of Max Bonati from Solesdi Showroom. With nearly 10,000 interior square feet, this model residence at Palazzo del Sol is the largest floorplan. The stunning interiors were complemented by furniture, fixtures, flooring, millwork, rugs, and accents from Solesdi's collection of brands. Henge provided special filter walls, its iconic Wall Clips designed by Massimo Castagna, elegant tables, chairs, armchairs, and the gorgeous lighting systems from its different collections. The entire space is characterized by natural elements including wood flooring and wall accents, Cardoso stone kitchen countertops, stone wall features, and an Egeo marble dining room table. The residence includes five bedrooms, an office, a billiards area, a formal dining and breakfast nook, a media room, and seven-and-a-half bathrooms plus powder and two private elevators that open directly into a sprawling living area with a 10-foot floor-to-ceiling wall of windows. Its prime waterfront location where the bay meets the ocean makes Palazzo Del Sol a true paradise that delivers an unobstructed view of the Atlantic Ocean, South Beach, Biscayne Bay, and Downtown Miami to its residents. For more information about Palazzo Del Sol, please contact [email protected], or visit the website at palazzodelsol.com. Photo credit: Maria Galli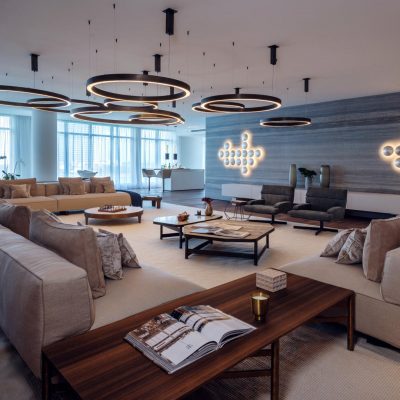 Palazzo del Sol is the newest luxury residential building on Miami's famed Fisher Island. The exclusive construction was recently completed, bringing more contemporary design and architecture to the Mediterranean-style island. Henge was selected to design a turnkey model home for the building.
Unit 7053, the third and largest model residence, was curated by the Italian brand thanks to the prized work of Max Bonati from Solesdi Showroom. With nearly 10,000 interior square feet, this model residence at Palazzo del Sol is the largest floorplan. The stunning interiors were complemented by furniture, fixtures, flooring, millwork, rugs, and accents from Solesdi's collection of brands. Henge provided special filter walls, its iconic Wall Clips designed by Massimo Castagna, elegant tables, chairs, armchairs, and the gorgeous lighting systems from its different collections. The entire space is characterized by natural elements including wood flooring and wall accents, Cardoso stone kitchen countertops, stone wall features, and an Egeo marble dining room table.
The residence includes five bedrooms, an office, a billiards area, a formal dining and breakfast nook, a media room, and seven-and-a-half bathrooms plus powder and two private elevators that open directly into a sprawling living area with a 10-foot floor-to-ceiling wall of windows. Its prime waterfront location where the bay meets the ocean makes Palazzo Del Sol a true paradise that delivers an unobstructed view of the Atlantic Ocean, South Beach, Biscayne Bay, and Downtown Miami to its residents.
For more information about Palazzo Del Sol, please contact in[email protected], or visit the website at palazzodelsol.com.
Photo credit: Maria Galli