Munich and Johannesburg new openings
Henge inaugurates a new space in Munich at Egetemeier Wohnkultur. Customers are welcomed in an elegant and relaxed atmosphere. The space showcases a set up with a contemporary personality enlivened by a refined selection of furnishings, including best-sellers alongside some novelties from the 2019 Collection. Among the key pieces in the showroom, the wide composition of the RF seating system, characterized by the braided backrest in slate-coloured Nubuck leather, and the Vertigo chaise longue, covered in sand-coloured Nubuck leather, designed by Massimo Castagna. They are combined with the Mushroom coffee tables, made of sand-casted brass and designed by Yabu Pushelberg. The strength of the Abaco wall lamp, in a H-silver patina finish and white crystal, and the suspended composition of Polygonal Light Rings enhance the space. The combination of colours plays on the almost entirely monochromatic shades of grey, discontinued by accents of chalk and beige, well harmonized with the minimalist and refined look. The expansion of Henge abroad continues with the opening of the first showroom in South Africa, in collaboration with Il Lusso, a qualified partner, recognized as the reference point for Italian design in Johannesburg. One of the main showcases of the store features the imposing Bistro-S bookcase and the RF seating and sofas system together with furnishing elements such as coffee tables, poufs and lights all designed by Massimo Castagna, Henge's Creative Director. An invitation to enter and discover the Henge world with living and dining solutions, including some of the most representative products of the 2019 Collection and their best-sellers, such as the Tangram bookcase, the Polygonal Light Rings and the S-Penny dining table. The showroom reveals the refined and sophisticated mood of the brand through an interior concept with great attention to the detail, immersed in a welcoming and bright space. Developed on a 128 square metre area, the new space was designed to offer customers a fascinating brand experience. Photos Munich: Gabriel Buechelmeier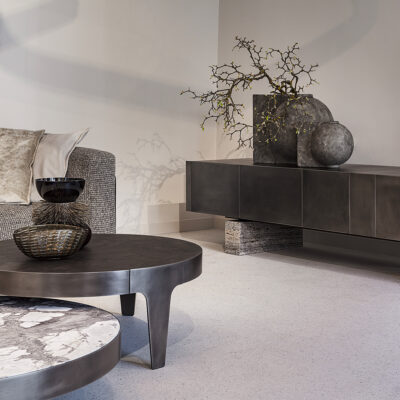 Henge inaugurates a new space in Munich at Egetemeier Wohnkultur. Customers are welcomed in an elegant and relaxed atmosphere. The space showcases a set up with a contemporary personality enlivened by a refined selection of furnishings, including best-sellers alongside some novelties from the 2019 Collection.
Among the key pieces in the showroom, the wide composition of the RF seating system, characterized by the braided backrest in slate-coloured Nubuck leather, and the Vertigo chaise longue, covered in sand-coloured Nubuck leather, designed by Massimo Castagna. They are combined with the Mushroom coffee tables, made of sand-casted brass and designed by Yabu Pushelberg. The strength of the Abaco wall lamp, in a H-silver patina finish and white crystal, and the suspended composition of Polygonal Light Rings enhance the space.
The combination of colours plays on the almost entirely monochromatic shades of grey, discontinued by accents of chalk and beige, well harmonized with the minimalist and refined look.
The expansion of Henge abroad continues with the opening of the first showroom in South Africa, in collaboration with Il Lusso, a qualified partner, recognized as the reference point for Italian design in Johannesburg.
One of the main showcases of the store features the imposing Bistro-S bookcase and the RF seating and sofas system together with furnishing elements such as coffee tables, poufs and lights all designed by Massimo Castagna, Henge's Creative Director. An invitation to enter and discover the Henge world with living and dining solutions, including some of the most representative products of the 2019 Collection and their best-sellers, such as the Tangram bookcase, the Polygonal Light Rings and the S-Penny dining table.
The showroom reveals the refined and sophisticated mood of the brand through an interior concept with great attention to the detail, immersed in a welcoming and bright space. Developed on a 128 square metre area, the new space was designed to offer customers a fascinating brand experience.
Photos Munich: Gabriel Buechelmeier