Henge at Salone del Mobile 2017
The unveiling of the 2017 design collection by Massimo Castagna along with the special collaboration with the global design studio Yabu Pushelberg at Salone del Mobile was an incredible success. We want to thanks all those who helped make Milan Design Week amazing by visiting our atelier 7 Via della Spiga and stopping by our stand at Salone del Mobile. Under the artistic direction of Massimo Castagna, the brand conveys its contemporary vision of craftsmanship leading to a quality manifesto of a luxury that recoils from the impeccability of serial industrial productions and is oriented towards the uniqueness of materials and shapes. Henge's manufacturing lab introduces the new finishings, expanding the available range. The H Silver finishing is offered in two versions, the H Silver S, Henge's distinctive burnished silver with a shinier and brighter note, and the H Silver Black, a darker burnished finishing featuring a more intense feel; H Drama, veined brass finishing. Or yet again, the new Shine Brass processes in glossy brass, and the brass and bronze Sand casting technique creating a matte, irregular, textural effect. For the 2017 collection, Henge employs new materials such as Silver brown wave soft, a black stone contaminated by a lighter grey veining, and the new precious nappa leather, Sense, with its earthy tones ranging between rust and tobacco or charcoal grey. Read and download here the Press Release 2017 Press Office SMITH-PETERSEN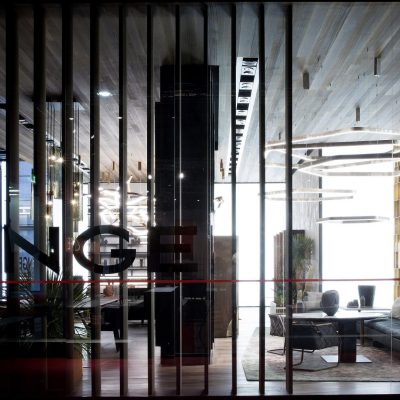 The unveiling of the 2017 design collection by Massimo Castagna along with the special collaboration with the global design studio Yabu Pushelberg at Salone del Mobile was an incredible success. We want to thanks all those who helped make Milan Design Week amazing by visiting our atelier 7 Via della Spiga and stopping by our stand at Salone del Mobile.
Under the artistic direction of Massimo Castagna, the brand conveys its contemporary vision of craftsmanship leading to a quality manifesto of a luxury that recoils from the impeccability of serial industrial productions and is oriented towards the uniqueness of materials and shapes.
Henge's manufacturing lab introduces the new finishings, expanding the available range. The H Silver finishing is offered in two versions, the H Silver S, Henge's distinctive burnished silver with a shinier and brighter note, and the H Silver Black, a darker burnished finishing featuring a more intense feel; H Drama, veined brass finishing. Or yet again, the new Shine Brass processes in glossy brass, and the brass and bronze Sand casting technique creating a matte, irregular, textural effect.
For the 2017 collection, Henge employs new materials such as Silver brown wave soft, a black stone contaminated by a lighter grey veining, and the new precious nappa leather, Sense, with its earthy tones ranging between rust and tobacco or charcoal grey.
Read and download here the Press Release 2017
Press Office
SMITH-PETERSEN