Henge opens in Cortina d'Ampezzo
Cortina d'Ampezzo, a fascinating place surrounded by the Dolomites, hosts the new housing project L'Ambiente showroom, where traditions and innovations dialogue in an effective balance of solutions and shapes, with the aim of showing contemporary furniture proposals perfectly integrated into the landscape. Henge is synonymous with craftsmanship through careful and constant research of materials: woods, metals, natural stones, and leathers. From this expressive force, new projects of considerable impact are created. Each manufacturing process begins with the fusion between technology and ancient traditions, with the addition of skilled hands that make Henge products an expression of the true Made in Italy. For each material, different natural finishes are made according to specific personalization needs: value that testifies to the continuous research efforts carried out in the field of production in order to offer customers the widest range of possibilities. Among the collections on display, the new Saetta table perfectly embodies Henge's work in experimentation: the rectangular top is made of fir wood from the ancient Tabià, while the structure is made of bronze, produced with the sand casting technique; the Slim Side cabinet is also made in the refined ancient Tabià fir wood with stone inserts by Castellavazzo. In the living area, there are the Bistro S hand-burnished brass modular bookcase, the Cage B bookcase with swamp elm wood partitions and black burnished steel structure, and the Style Set wall bookcase, made entirely of antique Tabià fir wood with internal elements in black burnished brass and black burnished steel. To illuminate the rooms are the Light Ring Horizontal, composed of suspensions in burnished black brass finish, and the Flat Lamp Table, with black burnished brass tubular structure and counterweight in Titanium stone. The concept of the exhibition was designed by Studio Gherardi Architetti per L'Ambiente, a consolidated reference in the world of interior design, with the stone from Castellavazzo and the ancient Tabià fir wood as protagonists. These typical Cortinesi structures, revisited in a contemporary way while keeping traditions, integrate themselves through the study and research of new finishes to these fascinating constructive elements. View the Gallery  Photo credit: Nicola Bombassei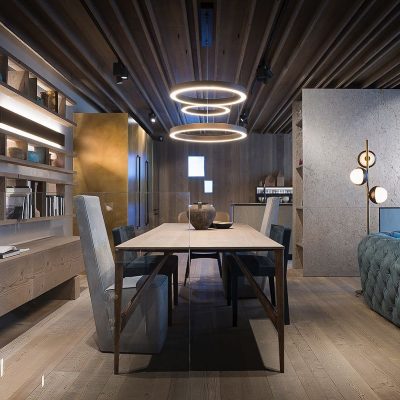 Cortina d'Ampezzo, a fascinating place surrounded by the Dolomites, hosts the new housing project L'Ambiente showroom, where traditions and innovations dialogue in an effective balance of solutions and shapes, with the aim of showing contemporary furniture proposals perfectly integrated into the landscape.
Henge is synonymous with craftsmanship through careful and constant research of materials: woods, metals, natural stones, and leathers. From this expressive force, new projects of considerable impact are created. Each manufacturing process begins with the fusion between technology and ancient traditions, with the addition of skilled hands that make Henge products an expression of the true Made in Italy. For each material, different natural finishes are made according to specific personalization needs: value that testifies to the continuous research efforts carried out in the field of production in order to offer customers the widest range of possibilities.
Among the collections on display, the new Saetta table perfectly embodies Henge's work in experimentation: the rectangular top is made of fir wood from the ancient Tabià, while the structure is made of bronze, produced with the sand casting technique; the Slim Side cabinet is also made in the refined ancient Tabià fir wood with stone inserts by Castellavazzo.
In the living area, there are the Bistro S hand-burnished brass modular bookcase, the Cage B bookcase with swamp elm wood partitions and black burnished steel structure, and the Style Set wall bookcase, made entirely of antique Tabià fir wood with internal elements in black burnished brass and black burnished steel.
To illuminate the rooms are the Light Ring Horizontal, composed of suspensions in burnished black brass finish, and the Flat Lamp Table, with black burnished brass tubular structure and counterweight in Titanium stone.
The concept of the exhibition was designed by Studio Gherardi Architetti per L'Ambiente, a consolidated reference in the world of interior design, with the stone from Castellavazzo and the ancient Tabià fir wood as protagonists. These typical Cortinesi structures, revisited in a contemporary way while keeping traditions, integrate themselves through the study and research of new finishes to these fascinating constructive elements.
View the Gallery 
Photo credit: Nicola Bombassei