Henge New Opening Beijing
Henge strengthens its presence in China with the recent opening of a new space in Beijing, which marks a further expansion of the company's distribution strategy in Asia, following the openings in Hong Kong, Shenzhen and Shanghai. The space inaugurated on the 24th of November, located in one of the most dynamic areas of the city, is an exhibition area of ​​105 square meters with a succession of settings with a contemporary mood displaying numerous best and long sellers of Henge. An elegant and refined project, with a selection of pieces, designed for professionals and fans of the brand. The skilled hands of the Henge artisans, under the artistic direction of Massimo Castagna, create furnishings that enhance the irreplaceable manufacturing abilities of the Made in Italy tradition and developed in unique local contexts such as the Veneto region. In the space there are two dining areas, a living area, and a lounge area designed to relax. The imposing S Penny dining table over 3 meters long with a Black Lake stone top is surrounded by the Savannah chairs, designed by the Irish architect Stephen Tierney, in black walnut with the upholstered seat. To illuminate the space a composition of Tape Lights in Black Silver finish combined with the scenographic Bistro S bookshelf realized in Platinum finish. The contemporary and clean lines of the Human modular sofa and armchair, with its generous proportions, covered in leather and refined fabrics, give a welcoming atmosphere to the living area. The Mushroom tables, created by the famous design studio Yabu Pushelberg, are made of sand casted bronze. Each piece is the result of craftsmanship and can be customized according to the customer requirements. Lighting plays an extremely important role, contributing to enhancing the refined metal finishes and natural beauty of the materials: the composition of burnished brass Wall Clips, the Polygonal Lights triptych in platinum finish, and the Starlight made in the chandelier version positioned above the Zenit custom made dining table with Cappuccino stone top. Domus Tiandi EN:3F JInbao Place, Np.88 Jinbao Street, Dongcheng District, Beijing, PR China CH: 北京市东城区金宝街金宝汇88号金宝汇3层 Tel: +86 10 85221508 [email protected] www.domustiandi.com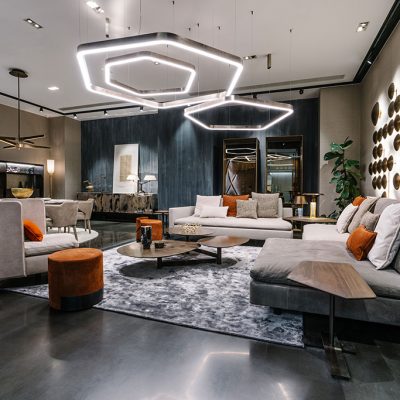 Henge strengthens its presence in China with the recent opening of a new space in Beijing, which marks a further expansion of the company's distribution strategy in Asia, following the openings in Hong Kong, Shenzhen and Shanghai.
The space inaugurated on the 24th of November, located in one of the most dynamic areas of the city, is an exhibition area of ​​105 square meters with a succession of settings with a contemporary mood displaying numerous best and long sellers of Henge. An elegant and refined project, with a selection of pieces, designed for professionals and fans of the brand.
The skilled hands of the Henge artisans, under the artistic direction of Massimo Castagna, create furnishings that enhance the irreplaceable manufacturing abilities of the Made in Italy tradition and developed in unique local contexts such as the Veneto region. In the space there are two dining areas, a living area, and a lounge area designed to relax. The imposing S Penny dining table over 3 meters long with a Black Lake stone top is surrounded by the Savannah chairs, designed by the Irish architect Stephen Tierney, in black walnut with the upholstered seat.
To illuminate the space a composition of Tape Lights in Black Silver finish combined with the scenographic Bistro S bookshelf realized in Platinum finish. The contemporary and clean lines of the Human modular sofa and armchair, with its generous proportions, covered in leather and refined fabrics, give a welcoming atmosphere to the living area. The Mushroom tables, created by the famous design studio Yabu Pushelberg, are made of sand casted bronze. Each piece is the result of craftsmanship and can be customized according to the customer requirements.
Lighting plays an extremely important role, contributing to enhancing the refined metal finishes and natural beauty of the materials: the composition of burnished brass Wall Clips, the Polygonal Lights triptych in platinum finish, and the Starlight made in the chandelier version positioned above the Zenit custom made dining table with Cappuccino stone top.
Domus Tiandi
EN:3F JInbao Place, Np.88 Jinbao Street,
Dongcheng District, Beijing, PR China
CH: 北京市东城区金宝街金宝汇88号金宝汇3层
Tel: +86 10 85221508
[email protected]
www.domustiandi.com