Henge at 8408 Hillside Avenue
Henge furnishes one of the most impressive homes ever built in the Hollywood Hills. Designed and crafted by SAOTA in their first-ever ground-up construction, the interiors were curated by Henge in collaboration with Mass Beverly. The 22,216 sq. ft. project mixes elements of fire and water, including a 12-foot internal cascading waterfall. The property has an incredible indoor and outdoor area with a 163-foot wraparound infinity pool, bar, and lounge with fire pit, plus a rooftop terrace with a dining area, bar, spa, and lounge overlooking expansive views, from the San Gabriel Mountains to Downtown LA all the way to Santa Monica and Catalina Island. Henge's collections are unique and quite precious, adding a richness to the grand interiors with their strong and sophisticated personality, refined materials and quality craftsmanship. The home's living, dining and bedrooms feature elements from the various collections designed by Massimo Castagna and Yabu Pushelberg, including Henge's trademark lighting systems. This dream home affirms that Henge is the first choice when it comes to furnishings for projects on the International stage. Credits: Lead Architect: SAOTA Architects of Record: Woods and Dangaran Interiors: Mass Beverly Project Management & Owners Representative Services: Park Lane Projects @parklaneprojects General Contractor: Fortis Development Developer: Jeff Thomas Video: Simon Berlyn Listing agents: James Bondst, David Bondst, Jason Oppenheim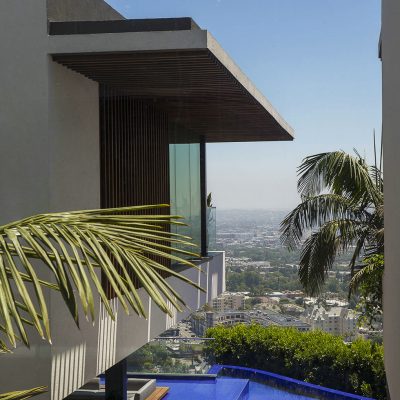 Henge furnishes one of the most impressive homes ever built in the Hollywood Hills. Designed and crafted by SAOTA in their first-ever ground-up construction, the interiors were curated by Henge in collaboration with Mass Beverly.
The 22,216 sq. ft. project mixes elements of fire and water, including a 12-foot internal cascading waterfall. The property has an incredible indoor and outdoor area with a 163-foot wraparound infinity pool, bar, and lounge with fire pit, plus a rooftop terrace with a dining area, bar, spa, and lounge overlooking expansive views, from the San Gabriel Mountains to Downtown LA all the way to Santa Monica and Catalina Island.
Henge's collections are unique and quite precious, adding a richness to the grand interiors with their strong and sophisticated personality, refined materials and quality craftsmanship. The home's living, dining and bedrooms feature elements from the various collections designed by Massimo Castagna and Yabu Pushelberg, including Henge's trademark lighting systems.
This dream home affirms that Henge is the first choice when it comes to furnishings for projects on the International stage.
Credits:
Lead Architect: SAOTA
Architects of Record: Woods and Dangaran
Interiors: Mass Beverly
Project Management & Owners Representative Services: Park Lane Projects @parklaneprojects
General Contractor: Fortis Development
Developer: Jeff Thomas
Video: Simon Berlyn
Listing agents: James Bondst, David Bondst, Jason Oppenheim