Solesdi showroom hosts Henge's creations during Art Basel Miami
During Art Basel Miami – one of the most prestigious international contemporary art fairs, Henge presents a special set up at Miami Solesdi Showroom. The brand's furniture, designed by Creative Director Massimo Castagna, are created following rigorously uncompromising traditional craftsmanship techniques. Human Sofa displays a thin structure and armrest, offered here in the new Sense leather and fabric, matched with soft linen pillows, while the comfortable Misty Day Bed chaise longue features suede upholstery. These seats are accompanied by Touch Coffee Tables, available in different shapes and sizes and characterized by a hand-burnished brass base and a therrmised solid oak wood top with hand finish; and by the Mushrooms tables, designed by international studio Yabu Pushelberg. These metal coffee tables boast extraordinary physical and aesthetic lightness with different size tops to create brass and bronze multiform dynamic and fluid compositions. The space features the elegant Shift Table with Silver Brown Wave Soft stone, characterized by a shifting system that enables more versatility and two modular bookcases: Bistro S, sectional bookcase with joint modules and multifaced vertical dividers presented in burnished brass and Cage B-S with black eucalyptus wood dividers and burnished brass frame. The impressive modular wall system Loom includes a wide full-height hand-burnished brass opening with black eucalyptus inserts, available with different shelving, drawer or flap and TV stand. Spaces are illuminated by Wall Clips, small dome compositions offered in the exclusive H Silver finishing and by Polygonal Lights which feature the Black Silver finishing: a lighting structures composed of suspended pentagonal and hexagonal rings of various sizes. Henge embodies the most sophisticated Made in Italy by combining formal rigor and freedom of creative expression, unfettered by of the industrial manufacturing's dynamics. Henge conceives and creates products in which design and expressive strength of natural materials bring organic elements to life in a combination of space and nature where objects become much more than mere furnishing pieces. View the Gallery Photo credit: Vanessa + Johnny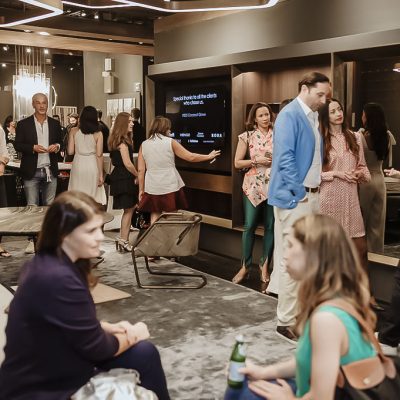 During Art Basel Miami – one of the most prestigious international contemporary art fairs, Henge presents a special set up at Miami Solesdi Showroom. The brand's furniture, designed by Creative Director Massimo Castagna, are created following rigorously uncompromising traditional craftsmanship techniques.
Human Sofa displays a thin structure and armrest, offered here in the new Sense leather and fabric, matched with soft linen pillows, while the comfortable Misty Day Bed chaise longue features suede upholstery.
These seats are accompanied by Touch Coffee Tables, available in different shapes and sizes and characterized by a hand-burnished brass base and a therrmised solid oak wood top with hand finish; and by the Mushrooms tables, designed by international studio Yabu Pushelberg. These metal coffee tables boast extraordinary physical and aesthetic lightness with different size tops to create brass and bronze multiform dynamic and fluid compositions.
The space features the elegant Shift Table with Silver Brown Wave Soft stone, characterized by a shifting system that enables more versatility and two modular bookcases: Bistro S, sectional bookcase with joint modules and multifaced vertical dividers presented in burnished brass and Cage B-S with black eucalyptus wood dividers and burnished brass frame. The impressive modular wall system Loom includes a wide full-height hand-burnished brass opening with black eucalyptus inserts, available with different shelving, drawer or flap and TV stand.
Spaces are illuminated by Wall Clips, small dome compositions offered in the exclusive H Silver finishing and by Polygonal Lights which feature the Black Silver finishing: a lighting structures composed of suspended pentagonal and hexagonal rings of various sizes. Henge embodies the most sophisticated Made in Italy by combining formal rigor and freedom of creative expression, unfettered by of the industrial manufacturing's dynamics. Henge conceives and creates products in which design and expressive strength of natural materials bring organic elements to life in a combination of space and nature where objects become much more than mere furnishing pieces.
View the Gallery
Photo credit: Vanessa + Johnny