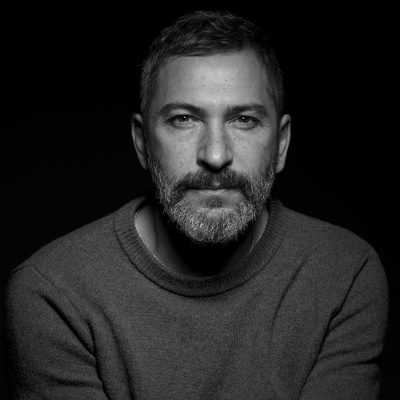 Born under the massive Alps of Carrara, Ugo Cacciatori belongs to a dynasty of marble quarry owners and artists. The early passion for materials and shapes together with his innate creative skills led him to attend Architecture at the University of Florence.
Extending his experience, he moved to London where, after a first involvement in architectural firms, he decided to challenge himself in the fashion industry. At the end of the Nineties his first collection project was presented in Milan while he started providing extensive consultancy to Valentino, Giambattista Valli, Romeo Gigli, Marni, Fendi and several others.
The need for a hidden place where to create brought him to Lerici, a little fisherman village on the border between Tuscany and Liguria, a landscape that had already been the inspiring nest of Lord Byron and Percy Bysshi Shelley.
A new attitude gradually rose and the actual mood suddenly took shape. While limiting the collaborations to a few focused projects, including the creative direction of Santa Croce, a brand of the Prada Group, and the developing of a jewelry line for Diesel Black Gold, he shared his time between Milan and New York for over a decade. He recently elected Los Angeles as creative base where to express his wide experience while enjoying the Californian lifestyle.