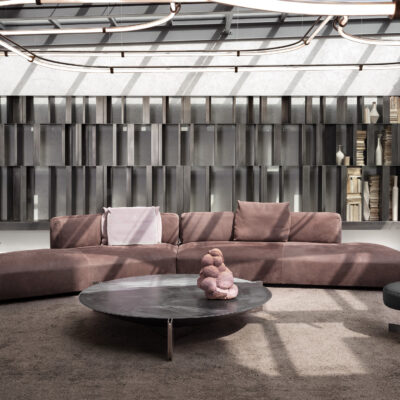 Beyond Matter: A Symphony of Elegance and Innovation in Henge's Material Mastery
Is it truly possible to transcend the boundaries of matter? "Beyond Matter" is a journey that captures your imagination and brings out your deepest emotions. It is an itinerary that caresses your soul and stimulates your senses, in a perpetual dance with beauty. Flowing, winding lines intertwine with sharp geometries and precious materials. Bold and decisive designs express so much personality, a unique paradigm of contemporary elegance.
The creative harmony that exists between Henge and its designers, like Massimo Castagna, Ugo Cacciatori and Isabella Genovese, continues to weave together threads of innovation and a search for materials that goes beyond the ordinary. Henge is once again working with renowned design firm Yabu Pushelberg, further enriching the mosaic of ideas that contribute to Henge's unique vision.
"Beyond Matter" is an exploration of exceptional materials, gathered from every corner of the world, as Henge is continuously searching for their expressiveness, authenticity and the mysteries hidden in their processing techniques. Unique materials, each with a silent story, ready to be revealed to those who know how to listen. For Henge, every detail is an ode to perfection, and every creation is a profoundly meaningful experience, beyond the material.
Catalogue
The collection highlights the use of distinctive materials meticulously researched, and crafted by hand by skilled Italian artisans. These timeless pieces of furniture effortlessly blend into various settings and add character and charm to any home. The collection for the year 2023 reaffirms the company's commitment to interior design that blends seamlessly with architecture.