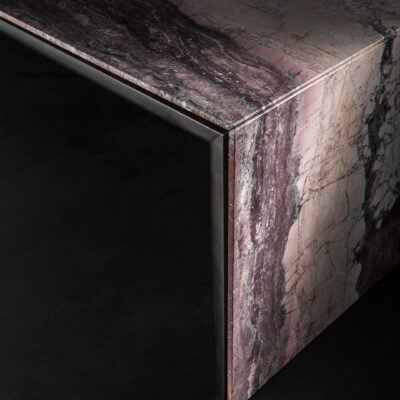 It is with the inauguration of a new Home that Henge promises, on the occasion of this 59th edition of the Salone del Mobile, eagerly awaited appointment with the world of design, to animate the exciting context of an event increasingly engaging and appreciated at an international level. In the pulsating heart of a particularly vibrant Milan, in the luxury fashion design district, in Via della Spiga 34, a prestigious showroom of over 750 square meters will open its doors presenting the superb new collection, conceived with the inspiration of Massimo Castagna, the designers Ugo Cacciatori and Isabella Genovese and the collaboration of the famous designer couple Yabu Pushelberg.
The generous space, arranged over three floors, invites to deepen the identity and creative eclecticism of an Atelier that has made excellence its priority. A sequence of enthralling settings attests to the compelling path of a brand that has always been passionately dedicated to investigating natural reality and uncontaminated corners, exploring the rarest and most valuable materials, intending to enhance their expressive peculiarities, and establishing an emotional dialogue between the product and those who will remain fascinated.
The secret of this journey that leads to the soul of stones and essences derives from an instinctive love for the beauty of an organic universe, capable of continually renewing surprises, provoking amazement with the many prodigious riches that it is holding and unexpectedly reveals. Textures, veins, and characteristics improperly considered defects or imperfections are privileged and exalted by the mastery of the Company's team, the best of manual and technological know-how. These extraordinary manufacturing skills, which rediscover and apply finishes and treatments no longer used and, as a true laboratory of experimentation, tirelessly seek innovative procedures, forge distinctive pieces of high sartorial execution, able to stimulate the senses and excite, arousing strong empathy. Clean lines and bold geometries, often playing on unexpected contrasts and expressing themselves with the formal language of contemporaneity, respond to a very special refinement, proposing the authenticity of a beauty that will remain unaltered over time.